The Great American Play Series was founded by Stephan Morrow, a theater artist (actor/director) to present special event performances of classic American plays to the theater going public in Los Angeles and New York. With little in the way of sets, props, or special lighting but with powerful performances from some of our best actors nine seasons of staged readings have produced many extraordinary evenings of theater.
One of the highlights of the series was Arthur Miller's play 'Incident at Vichy' which was presented four times in N.Y. to tremendous response. After Arthur Miller attended the first 'performance on book' at The Houseman Theater starring F.Murray Abraham and Austin Pendleton, Mr.Morrow was greatly honored to receive Mr.Miller's personal blessing to proceed in finding a major venue for a full production of the play. Mr. Morrow embarked on that mission wholeheartedly and spent three years attempting to get the play to Broadway. With the sad passing of Arthur Miller in 2005, that mission ended but there is always the hope that interest in the play will emerge in the future and in any case, working with one of our greatest, if not the greatest playwright of our time, was an effort worth making.
-----------------------------------------------------
Here is a memorial to Arthur Miller that was read at the Actor's Studio West in Los Angeles:
A Personal Tribute to Arthur Miller By Stephan Morrow 5/05
This has been a sad time, with the passing of Arthur Miller. There has been much written and spoken about the power of his writing which was of course magnificent, but I would like to share something about the character of the man. In November, the last time I talked with him, he seemed fine though he couldn't see his way to making the trip from his home in Roxbury to Hartford where I was putting on another special event performance of his play 'Incident at Vichy' . This would be our fourth presentation of the play and the cast and myself all had high hopes that if things went well, we might find backers for a major production of the play. I had thought of course, if Arthur could attend, it might help our cause. Two years before Arthur had indeed attended a 'performance on book' of 'Incident at Vichy' and gave me his personal blessing to move forward toward a Broadway production - the height of flattery for any director. But much to my chagrin, even though audiences embraced the play passionately, and even though, in its power and relevance - dealing as it does with the collapse of civil liberties and anti-Semitism - it was very timely, no producers stepped up to the plate. A cast of sixteen was generally considered impossibly large for Broadway unless it was a commercial entertainment. In my conversations with Arthur his wry wit never allowed for rage but he was very aware that there might not be room for his plays on Broadway anymore. And yet, because my actors believed in the merit of the project so deeply, they volunteered to even travel to Hartford, Connecticut and put it on up there for one night, which we did and had a brilliant evening. The evening was a smash and Elsa Haft Suisman, an active Broadway producer, enthusiastically announced her plans to move the play to a major venue. I had hoped to call Arthur with some good news, but after the dust had settled, a couple of months passed and no production materialized. The next thing I knew Arthur was gone. One of my deepest regrets is that I did not have the chance to repay Arthur for his loyalty and patience by sticking by me during that whole time, virtually three years. That kind of integrity will remain with me for a long time. The world may be unfair, but sometimes some people do manage to do the right thing. In the parlance of The Brooklyn Navy Yard that he was very proud to have worked in as a young man, he was not only one of our greatest playwrights - he was a stand up guy..... Stephan Morrow


The Great American Play Series
in association with The Makor/Steinhardt Center of the 92st Y
presents
Arthur Miller's
Incident at Vichy
an extraordinarily powerful investigation of the political persecution that can happen once civil liberties are destroyed….
March 29, 2004

Produced and Directed by Stephan Morrow

"….The day starts as any other - walking to work, a man turns into a quiet street. Suddenly, a car pulls up alongside him and four men in plainclothes jump out and surround him. One is in a uniform he doesn't recognize. They demand identification. An order is given and they grab him by the arms and hustle him into the car. Everyone is silent and they stare straight ahead. He feels invisible, ghostlike, as if he is already dead..''
Is this a death squad in El Salvador, or right in our own nation of 'Homeland Security' in a Kafkaesque near future? No. It is during the Nazi occupation of France in Vichy, in 1943 – but truth be told, it could be any one of these.
**scene suggested from Incident at Vichy

Cast*
Peter Weller
Fisher Stevens
Barry Primus
Larry Block
John Rothman
Bob Heller
Bernie Rachelle
Bob Sonderskov
Ronald Rand
Lazaro Perez
Bennes Mardenn
Michael Hadge
Lucas Blondheim
Matt Fraley
Jason Robards III
Michael Arkin

Here's what the audience said:
'Hi, Stephan...Well, the Reviews are in and -- you're a hit!!!' Congratulations!!! I got an e-mail from Elaine Papas last night saying the reading was terrific -- and one from my sister this morning saying: "The reading was outstanding -- Stephan did a great job -- and the actors were superb…. From : Dimitra Arliss, Actress

"We really enjoyed the reading...it was our first one and just great...good luck with it!!"
Barbara and Jennifer Howland

'Hi Stephen: I enjoyed the reading. It was very well done and you are to be congratulated.
Best, Gene Ruffini, (Playwright)

Dear Stephan,
'Thank you for arranging tickets for me to see INCIDENT AT VICHY last night. Your vision for this play was very insightful and helped to make the play feel very timely and fresh. It remains a stirring piece of writing and I was happy to become familiar with another of Mr. Miller's plays.
Daryl and I discussed the play this morning and she asked that I thank you on her behalf for inviting us. We both wish you great success as you continue with this project.'
Warmly,
Greg Raby
Assistant to Daryl Roth, Broadway Producer


Stephan,
The show was very powerful and everybody was happy about it. The play was very well read and felt. Fisher Stevens seemed very taken to it, Larry Block was wonderful. And Barry Primus really warmed up. I hope you can transfer it elsewhere, stage it, or do another play of this caliber soon.
My only suggestion is that I think next time you do the play - in a cabaret, a barroom a warehouse, an "urban" setting for sure - you should write a short text about it and include it in the program to explain the context Miller was writing in.
Best, Soti Triantafillou . (Best-selling novelist. Athens, Greece)

Stephan:
It would be nice to chat at some point. Again, you did a great job with
the reading. I hope you had some response that will propel you forward in some
way . You most certainly deserve it.
Best, Barbara Spiegel.( N.Y. Actress/Director)

Stephan ,
This was my third time at your play and I must say....very good. As it turns out
the stuff I hear (and read) of late, bring the issues that this play kicks
up to the forefront every day it seems. All the best with this valuable project,
Michael Clarke

"Hey Stephan: 'Good words about your show even reached the other side of the Ocean. As we say in Greek, Panta tetoia," Lots of kisses, Anastasia (Athens Vogue Editor)

---------------------------------------------------------------------------


INSIDE THE SOUL OF AN AMERICAN DIRECTOR
by Stephan Morrow

What is this cross we bear called 'the desire to do great theater'? What draws us up the Sisyphaean mountain again and again? Is it that rare moment, that electric moment, when we are launched? When all the forces of the theater gods combine and pull us up from the darkened house of a theater into some Olympian chamber of cosmic revelation? I can say that for me, it happened recently, directing a workshop performance of Arthur Miller's Incident at Vichy.
Unfortunately it can be a very long time until rare moments such as these happen again. But we drive on. Why? Even when civilians (those whose lives do not obsessively revolve around the theater) think we're crazy, or our family and friends look at us sideways with the doleful glance of pity that one gives to the 'slightly tetched in the head', to use a phrase by Mark Twain. It's a reasonable response, coming from a culture that is itself obsessed only with material gain as the final arbiter of value. And one which actively dislikes any attempt at providing introspection, which certainly is theater's strongest suit.

So how do you, in fact, convince someone of the value of a life in the theater, in the cultural climate we live in? Simple. That in spite of it all, there is that special moment in a theater when the hair on your neck raises up as you are taken somewhere out of the realm of everyday experience and into some kind of visceral understanding of non-ordinary reality; when you experience your inner emotional landscape shift and you are renewed on some level. And actually transformed into a slightly better individual, "if only for the fifteen steps past the exit of the theater," as Harold Clurman once said. To him that was still of definite value. And since the life of the theater artist is more endangered now than ever before, for me, its become an anthem: Make a difference on the planet, whether large or small, by contributing to the consciousness of the body politic. And I don't mean by presenting some kind of agit-prop skit that advances a political agenda. There's probably nothing more well meaning and more deadly than 'political' theater'. After all, we get enough propaganda from the deluge of commercials we have to suffer through. No, I mean by raising the flesh and bones of great live drama that reaches across the footlights and touches our very souls. That's what makes the struggle worthwhile.

You might also ask why theater artists on occasion wryly refer to theater as 'my habit' - as if it's an addiction? Well, in a way, once you experience one of those rare moments, I suppose it can feel like that, pulling you back again and again, though it does something much more profound than any drug. I prefer to see 'a life in the theater' as being a monk without a monastery, a calling, and when the elements in a production combine to create an altered reality on the stage, I see it as being more related to a religious experience than anything else. Although, it might be said that even in the most dire and dark moments of drama the humor of irony often emerges which is as sacred as anything else.
So while your psyche is stretching faster than a speeding bullet and your soul is leaping over the tallest mountains, you definitely enter a zone of Olympian twilight and experience a dress rehearsal for all the issues that life confronts us with. The price of admission is high, no question, but for the chance to participate in the mysterious process of putting up a play so that it works to the best of the ability of the writing - there's nothing like it, and a price well worth paying with the currency in sacrifices that it costs.

But, there's the rub: the play. It all starts with the writing: if it has the power to create an authentic experience; if it raises issues of real significance; if it is emotionally cathartic and moves you on the deepest level. Arthur Miller's play Incident at Vichy does that for me.

A few years ago I created what I called 'The Great American Play Series,' to present 'performances on book' of important plays of our time, plays with ideas of size that we should be hearing. I began without costumes, sets, or lighting, but with the best actors I could get, and presented special reading presentations. I began with Arthur Miller's The Crucible. And it was at that very moment Arthur Miller himself wrote a long article in 'The New York Times' saying how the play had changed for him, from issues of informing, to issues of the invasion of one's privacy. What he said meant a great deal to me, and I decided to continue investigating his work, and so proceeded to have his play, After the Fall, as part of the Series. With the moral support I received from Shelley Winters, who had seen a staged reading I had directed of Norman Mailer's The Deer Park at The Actor's Studio, I was able to enlist Mark Rydell, Rebecca DeMornay, Sally Kirkland, Lyle Kessler, and Barry Primus (who also took part in several other of my presentations, and who had been in four premiers of Arthur Miller's work) for the 'performance on book' of 'After the Fall'. During the performance, it was if the actors "caught a fever from one another" – a burning determination to do the writing the justice it deserved. Perhaps it was because as actors, they so seldom had the opportunity to work on material of such power, but it launched them. And at the end of the performance, it was as if they each left a little piece of themselves behind on that stage. The audience's deeply passionate response to what had occured, spoke to me of a hunger for yet more great plays to be investigated by more terrific actors.

I had planned to move on to explore Tennessee Williams's work, when the world suddenly shifted in many ways, both personally and globally – 9/11 happened. Traumatized by that horrific event as profoundly as everyone else, nevertheless, as time wore on, it seemed to me new issues started emerging that had a disturbing resonance. At that time, by the thinnest thread of a memory, I recalled that Miller's play, Incident at Vichy might be related to what was occurring. From that nether land of the subconscious, I had an image of the play as being a dark, nightmarish world where innocents were persecuted and arrested for unknown reasons. When I re-read Vichy I was almost shocked to find out how site-specific the play was, and how much it was a slice of an important history that should never be forgotten. And yet, as I returned to the play over and over again, I marveled at how the play in fact, did bring out the plight of innocent victims being arrested by an omnipotent police force in a universal arena. So I felt it operated on two powerful levels: one, a drama that looked at the historic persecution of Jews during WWII, while the other worked as a dark harbinger of things to come.
As someone who often feels vaguely subversive just sitting on a subway if I don't have a suit on amongst commuters who do, it was not a long leap for me to imagine being an attractive target somewhere down the line, as all artists might be, by being one of the 'antennae of our race'. What if with various justifications, citizens started getting arrested without due process of law, or without access to a lawyer, and what if they were then held indefinitely? While I can appreciate our need for protection, where were the safeguards, the checks and balances of these new policies of protection? It was hard not to miss the fact that in the larger scope of things we might be standing on a very slippery slope that could end up depriving us of the very civil liberties we prided ourselves on leading the world with. What better bulwark of protection could there be for our freedoms than to exercise our right to free speech, by indeed speaking up: in the passionate debating that a powerful evening of theater could ignite? And out of passionate discourse, might not some clarity be achieved in the best democratic tradition? What better purpose for putting on a play, and what better reflection of the merit of a play if that is what it inspires – a passionate response from its audience. I immediately set about to gathering a cast and a theater for a workshop performance of Incident at Vichy.

As it turned out, the first workshop performance, had a cast that included of F. Murray Abraham, Austin Pendleton, Larry Block, David Margulies, Stephen Mendillo, and Leo Burmester, among many other excellent actors. To my deep satisfaction, the reading received a thunderous ovation from the audience that seemed to go on for longer than I had ever personally experienced in the theater. Cries rang out for the author as if it were a new play. And finally, Mr. Miller did ascend the stage because he had in fact, attended the performance. Shortly thereafter he gave me his personal blessing to try to get a full production up. Heady stuff for any director.

At first, I was a little stunned when my attempts to have the play produced - even though it was written by one of our greatest living writers in the winter of his career - were rebuffed. While the cast is not small, a revival of this play that seems more alive and vital today than even when it was first written, seemed completely appropriate. Unfortunately this didn't happen, and so to keep momentum of the project going, I did another workshop staging, this time, with Richard Dreyfuss and Fritz Weaver, in the leads, and with Barry Primus coming into town to be part of the cast. Again, it was an evening of theater that relied on only great acting and great writing and rivaled any in its power. People had turned out in large numbers on a night of sub-zero temperatures to virtually fill The Houseman Theater. Not only that, but this time a post-play discussion that went on for an hour and unleashed a whirlwind of heated debate, seemed like a town hall debate on the state of things in the world.
Incident at Vichy is a play that should be seen and heard today by thousands of people. And even though I remain optimistic, so far there still has only been a deaf ear from the movers and shakers who would make it possible to bring the play into the major arena it deserves. What can I say? We're still looking. The Sisyphaean mountain calls….
published in The Soul of The American Actor.


The Great American Play Series
stephanmorrow@juno.com
Incident At Vichy – a proposal

When the play was first presented with Academy Award winning actor F. Murray Abraham, Austin Pendleton, David Margulies, and Leo Burmester, among others, the moment the play ended, the audience leapt to their feet with a thunderous and prolonged standing ovation. Clearly a deep chord had been struck and the audience's cries of 'Author, Author' were as if a new play had been delivered to them newly born, hot out of the playwright's hands. Clearly they were responding to a play that seemed to be tailor-made for dealing with issues that they were preoccupied with and that the playwright was powerfully expressing for them – the highest flattery for a writer. The fact that it was written forty years ago can only be seen as a tribute to Mr. Miller's powers of prescience. When Arthur Miller, who was in attendance, finally ascended to the stage it was a thrilling moment of theatrical history. Attention indeed, was being paid to America's greatest living playwright. And a play had been staged whose time had finally come....
Sometimes a peculiar thing happens in the life of a play: circumstances develop in the world that give it a life of renewed relevance. Maybe even more so than when it was first written. Whoever thought that anti-Semitism would rear its ugly head again all over the world : not just with Le Pen in France, but in Arab countries where there are cries of 'Death to the Jews' resounding through the streets, in Istanbul where two Synagogues were recently blown up by terrorists, and right here in our own country where discussion of the conflict between Israelis and Palestinians has gone beyond the nuances of that situation and crossed the line to a hatred of Jews in general, when for example, the canard is circulated on the internet 'that 5,000 Jews did not show up for work at The World Trade Center on 911 because Mossad was behind it all! '. In effect, the Middle-East conflict has come to serve as a lightning rod for what has to be called a new anti-Semitism.
There's another side to the coin of this play as well: while citizens understandably want protection from acts of terror, there is also grave concern about the loss of civil liberties. When there is surveillance of citizens that crosses the line and becomes an invasion of privacy, and fear of being picked up by authorities without any particular charges being filed alarms many, suddenly the play is no longer an abstraction from history, i.e. from Vichy, France under the Nazis in 1943, but rather is a warning that we are standing on a slippery slope that could lead us down into that very same hell in the not so distant future and lose the very freedoms we say we are trying to defend and lead the world with.
Finally, I believe that the deep, overwhelming response 'Incident at Vichy' drew from the audience is an affirmation that this play would be embraced by a large enough audience to merit a full production in a major arena. With powerful performances from some of the superb actors I have assembled, and inspired by appropriate directorial guidance, it could last through a long run. After all, Arthur Miller was present at the first performance and because he recognized the deep emotional commitment in the performances, that kind of organic, explosive acting when an actor leaves a small piece of himself behind on the stage, what I call 'deep acting' and what I aim for with my actors - he gave me his personal blessing to move forward and mount a full production of the play. We have worked closely ever since on this project.
One dimension that the play has that is especially valuable in assembling a cast of stellar caliber, is that the characters are strangers to one another so an actor could be worked into the cast with very little full cast rehearsal. This minimizes any scheduling conflicts that might arise and has been a very successful strategy for 'The Exonerated' enabling many actors of note to jump into the cast for a limited time. And since 'Incident at Vichy' takes place in a large ambiguous warehouse, the cost for lighting and sets could be minimal.
It must also be noted that for younger audiences the play illuminates a dark chapter in history they might not know about. For older members it could keep memories of that war alive, painful as they might be, so those who were lost would not be forgotten…
But most importantly, for today, it serves as a warning of how important it is to preserve our freedoms and liberties.
In addition, for a serious drama dealing with some of the most tragic moments in history, Arthur Miller, who at his best always provides moments of ironic humor, indeed, does so here. Gallows humor to be sure, but humor nevertheless, so the evening is not relentless in its journey.
This is the kind of play that goes back to the time when the theater held up a mirror for the world to observe itself in and for its citizens to be illuminated by and made thoughtful from. Whatever one's politics, this play provides a powerful and provocative evening of theater. In short, it is about something – a quality that is all too frequently lacking in today's theatrical arena. It is about persecution, prejudice, terror, heroism, barbarism - one could go on and on. These are the large ideas that make for dramas that are eternal and stay alive for each generation. And now is the time for this generation to be allowed to re-discover 'Incident at Vichy'.
One final note: There's always the possibility that when a play is presented only once, its reception, even a positive one - is a fluke: that a combination of forces have joined to produce either a powerful theatrical event or a favorable reaction from a particularly easy audience. So we presented the play two more times (the second time with Richard Dreyfuss and Fritz Weaver in the leads), again filling The Houseman to capacity on a night of frigid sub-zero temperatures, and a third time (with Peter Weller, Fisher Stevens and Barry Primus leading the cast) when for a third time the response from the audience was overwhelming. Once could be dismissed as a fluke, twice could still be a coincidence but a third time is absolute proof that this play is special and is ready to be embraced by a large audience. Not to mention that after the performances I led a post-play discussion that drew a whirlwind of passionate debate from members of the audience - which to me is what great theater does: provoke, disturb, make one think about large issues. If clarity comes from debate and discussion – and it is after all, the foundation of our democratic beliefs going all the way back to the ancient Athenian democracies, it is something I subscribe to. And more than that, I cherish it as the thing that gives our country its specialness.
From all these criteria therefore, I have a profound conviction that tremendous interest will be generated by a revival of this important and newly relevant play so that it will be embraced by a vast new audience that is passionate, and will support a major production in a major venue. If you agree, sieze the opportunity and join with us in supporting this worthy venture. The world must see this play before it is too late.
Stephan Morrow, Director
------------------------------------------------------------------
2007 Season of The Great American Play Series:
The Deer Park by Norman Mailer *
Produced by The Great American Play Series and The Makor/Steinhardt Center of the 92nd St. Y. with special permission by the author who attended the performance and held a post play discussion.
Directed by Stephan Morrow
March 25, 2007
with Delphi Harrington, Larry Block, Larry Pine, Justin Adams, Stephan Morrow, Bernard Rachelle, Jezebel Montero, Judith Jerome, Marina Squerciati, Nic Tyler, Chris Shyam/ Kerson, Jason Howard
Meghan Fluitt - announcer
Bob Feldman- saxophone.
from the Program Notes: A trip to Purgatory morphed into Palm Springs of the 50's where denizens of the film colony go about their trials and tribulations. A down and out film director who is short on cash and long on integrity falls in love with a Carmen, but one who is full of hurts. She goes off with an edgy but younger character who is not above setting up men with women for a price - but when her ex-lover director saves her from the brink of suicide, they end up settling down to a less than satisfying luxe, suburban life-style. They argue, he suffers a heart attack and dies. So goes life in the film capital. Or Purgatory - as the souls therein look for their salvation. Hard-ball, hard-core Hollywood of the fifties - a stand-in for all the towns in all the world…Mr. Mailer, who has just had his latest book published, "The Castle in the Forest" (about Hitler as a child) attended the "performance on book" of his play and participated in a lengthy and jubilant post-play discussion with the director, Stephan Morrow and Makor's Head of Theater Programming, Daniel Gallant.
*subsequent to the performance Mr. Mailer invited Stephan to act in and co-direct a film of The Deer Park.
------------------------------------------
2006 season of The Great American Play Series:
The Balcony by Jean Genet
Produced and directed by Stephan Morrow with
The Makor/Steinhardt Center of the 92nd St. Y.
October 22. 2006
Cast: Larry Block, Larry Pine, Angelica Torn, Ronald Rand, Bob Sonderskov, Bob Heller, Matt Fraley, Todd Conner, Alexandra Eitel, Christina Doikos, Elizabeth DeSantis, Kit Paquin.
from the program notes : "In the midst of a war-ravaged city, a brothel caters to the elaborate role-playing fantasies of its clients who are from all walks of life. When the Chief of Police impresses them into service to play their real life counterparts ( a Bishop, a Judge and a General) in his attempt to defeat the revolutionaries and take control, Genet presents a stunning string of macabre scenes, all of which reflect his caustic view of man and society. The play is timeless in the way that it presents the archetypal characters of its landscape yet, in a mysterious way it seems very fresh and contemporary. That is to say, it could be a world that is right around the next corner. " Stephan Morrow, Dir.
Ten Blocks on the Camino Real (+1)
by Tennessee Williams
Produced by The Great American Play Series and
The Makor/ Steinhardt Center of the 92nd St.
Dec. 3, 2006
A staged reading
Adapted and Directed by Stephan Morrow
with Betsy Von Furstenberg, Larry Block, Barbara Spiegel, Frederick Kimble, Harry Kimbel, Gilbert Cruz, Sonia Ohara, Justin Adams, Alex Shaklin, Casey Spindler, Bob Haufrecht, Marcia Haufrecht, Doug Rossi, Rafael Petlock, Timothy Lee and Corrinne Wu.
from the Program Notes:
'This original version of Williams' epic 'Camino Real' shows the origin of the later work while introducing much of the same kaleidoscopic vision. The Camino Real is a terminal road, a dead end, a police state in a vaguely desert country, in this version, a Latinate one, but the sand of its despair could easily be relocated to the deserts of the Middle East, making his vision especially relevant when one considers the naive Yankee, the soldier of fortune, with a heart 'as big as the head of a baby' who stumbles into it. Williams in his prescience gives us a nightmarish vision tinged with the humor of irony which is astounding in its accuracy of the despair of today in the same locale.


2005 Season of
The Great American Play Series
:
" A Bright Room Called Day" by Tony Kushner.
Produced and directed by Stephan Morrow by special permission of the author.
with Judith Malina, Angelica Torn, Joan MacIntosh,
Henry Stramm, Larry Block, Jody Carter, Anya Migdal, Alexandra Eitel, Chrisopher Kerson and Hanon Resnikov.
from the program notes: 'Taking place from 1932 - 33 in Berlin, it covers the period of the rise of the Nazis to absolute power and the demise of democracy, culminating with the infamous Reichstag fire. From then on, civil liberties were crushed, the Communist party outlawed, and the first concentration camps set up. The play follows six friends - bohemians, artists, and Marxists who try to save their souls and their lives during this tumultuous time. When the play was first presented twenty years ago, during the Regan years, it seemed to some far fetched to compare the end of the Weimar period to present day America, but as we have moved into the uneasy period in which we live - when there is widespread concern about civil liberties, wiretapping, and foreign invasion - the play has morphed into nothing less than a stunning tribute to Kushner's prescience, with the Weimar Republic standing as a dramatic metaphor for a state of things that could quite possibly arrive at our own doorstep.
Director Stephan Morrow reassembled some of the members of the original N.Y. cast together with other seasoned N.Y. stage actors, and Living Theater icon Judith Malina. Not seen professionally in N.Y. for over fifteen years, the play is not just the first play written by one of our most provocative playwrights but a superlative drama that stands on its own and has gained in relevance to present day society.'
The Great American Play Series in Los Angeles:
The Price by Arthur Miller
with Barry Primus, Lyle Kessler, Paul Mazursky, Judith Light.
Produced by Carol Anne Eisenrauch.
Directed by Stephan Morrow.
Ivar Theater, Hollywood. 2001.
The Deer Park by Norman Mailer.
Directed by Stephan Morrow
with Sally Kirkland, Stefan Gierasch, Shelley Desai, et al.
Glaxa Theater, Los Angeles. 2000
After the Fall by Arthur Miller
Directed by Stephan Morrow
A staged reading with Mark Rydell, Rebecca DeMornay, Sally Kirkland, Barry Primus, Lyle Kessler, Dilia Salvi, Lisa Richards, Stefan Gierasch, Harrison Young, Todd Connor et al. Barnsdall Theater. 1999
The Crucible by Arthur Miller (1998).
with Barry Primus, Lisa Richards, Stefan Gierasch, Julie Garfield, Todd Connor, Cynthia Ruffin et al.
Two performances of a staged reading at the Odyssey Theater, Los Angeles.
from the program notes: The Crucible, originally written out of the rage Arthur Miller had for the McCarthy hearings, today has a different resonance. It could be said that when out most intimate privacies are dragged into the public arena, forces may be unleashed that victimize everyone, from private citizen to president. This new take has been taken by none other than the playwright himself as revealed in the recent article he wrote in The New York Times on the Clinton impeachment trial.
STEPHAN MORROW
Director
stephanmorrow@juno.com
Theater - Los Angeles - projects directed by Stephan Morrow:
§ Cash Deal (by Michael Dinelli): with Tony Russell and John Cassini. Actor's Studio West. (1996). (Play was subsequently made into an independent feature film)
The Ghost Sonata (by August Strindberg). Staged reading: John Randolph. Strindberg Festival ( 1995)
The Bond (by August Strindberg). Staged reading: Barry Primus, Rebecca DeMornay. Strindberg Festival (1998)
§ Love in a Graveyard (by J. Tompkins). Patchett-Kauffman (P.K.E.) Staged-reading series, Dan Lauria, Artistic Director : with Sally Struthers, Pia Zadora. Geffen Playhouse (1994)
§ Stuck (by Rich Krevolin). P.K.E.; staged-reading series. Dan Lauria, Artistic Director: with Ed Asner, Jo DeWinter. Cannon Theater ( 1993)
§ Dance For Me Simeon (by Joseph Maher). P.K.E.; staged-reading series. Dan Lauria, Artistic Director: with Charles Durning, Peter Onorati, Alice Ghostley. Geffen Theater (1993)
§ The Hundred Years War (by Earnest Kearney). Workshop presentation: with Salome Jens, Gene Dynarski. Actor's Studio West Playwright – Director's Unit ( 1999)
· Forgiving (by Gloria Goldsmith). Staged reading: with Lois Nettleton. Actor's Studio West Playwright-Director's Unit
§ Most Recent Efforts 2010 - 2013 :
Directed four productions of Mario Fratti at Theater for the New City. Crystal Field, Exec Director :
'Trio' - featuring Rose Gregorio
'Quartet'
'The Suicide Club and Three Sisters and a Priest'
'The Vatican Knows (About that Young Woman)"



'Dogmouth' by John Steppling - Directed and acted eponymous character. Three short runs at Theater for the New City. Followed by the shooting of an independent feature of the material now in post-production. 2013.


'Wall St Fandango' by Murray Schisgal . Directed two staged readings with casts that included Peter Riegert and Rosie Perez.

'The Japanese Foreign Trade Minister' by Murray Schisgal.
Directed staged reading at The Playwright Directing Unit of The Actor's Studio. Patricia Bosworth, moderator.



'Pieces of Paradise' from the collection 'Mister Paradise' by TennesseeWilliams - 13St. Repertory Company:
- New York premier.2007
- " the excellent news is that these plays are all cannily directed by S. Morrow and are entertaining and fascinating in their own right... so enjoy a fine program of theatre while doing good at the same time (by helping save this endangered theatre).... It is a wonderful evening of undiscovered Williams...." Martin Denton, NYTheatre.com
- These four plays, all directed by Stephan Morrow, have performances that range from very interesting to very good.... Jerry Tallmer, The Villager.
§ 'Split Ends' : (Hello From Bertha by Tenn. Williams, The Man Who Couldn't Dance by Jason Katims, Hurry by Bridget Carpenter) an evening of one acts exploring the minefield without a map that exists between men and women in relationship. The Blue Heron Theater. N.Y. (2005)
Guest Director at The Company ( The Alumni Repertory Co. of The American Academy of Dramatic Art:
§ Childe Byron (by Romulus Linney): Alumni Repertory Co. of The American Academy of Dramatic Art (2002)
§ The Queens of Richard III (by Normand Chaurette): (2001)
§ North Shore Fish (by Israel Horovitz): A.A.D.A. (2002)
Other N.Y. Projects:
- Back Bog Beast Bait (by Sam Shepard): with Paul Austin. Theater XII Repertory Company
Ø Theater Commendation Award for Directing – SoHo Weekly News (1982)
§ Dance For Me Simeon (by Joseph Maher): with Sudie Bond, Tom Everett, and Wyman Pendleton. American Theater of Actors (1982)
§ Best Production Off-Off Broadway Award - Show Business Magazine (1982)
§ "Sudie Bond is a wonderful curmudgeon who we meet, just off the road, during this bitter but ultimately sweet evening." New York Times, Walter Kerr
§ The Choice (by Gene Ruffini). (Play is about the search for a Nazi War Criminal who is now a Catholic priest): American Theater of Actors (1984)
§ Messages (by John Ford Noonan). Three one-act plays. Staged reading: Paul Gleason, Jackie Bartone. American Place Theater Cabaret Space
§ The Collyer Brothers (by Sid Thiel). Staged-reading: Paul Austin, Tom Noonan. American Theater of Actors
§ Spanish Confusion (by John Ford Noonan). Staged reading: Joseph Ragno, Phil Peters. Actor's Studio - Playwright-Directing Unit. Elia Kazan, moderator.
§ These Days the Watchmen Sleep. by Carl Weber. Staged reading. New Dramatists, David Juaire, Artistic Director.
Other Projects - originating from The Actor's Studio, Playwright-Directing Unit (1985-1987)
Tough Guys Don't Dance (written and directed by Norman Mailer): Canon Films (1987) Played the role of Stoodie; co-starred with Ryan O'Neal and Isabella Rossellini
Strawhead: Marilyn- A dream story (written and directed by Norman Mailer) The Actor's Studio, N.Y. (1986) Originated the roles of Rod and Joe DiMaggio
· Bovver Boys (by Willie Holtzmann) Directed by Lenore DeKoven. Originated the role of Allie. Actor's Studio, N.Y.
Cabal of Hypocrites ( by Mikhail Bulgakov) played Count D'Orcy, supporting lead. Directed by David Margulies: The Actor's Studio, N.Y. (1985)
Membership
Actor's Studio N.Y. Playwright-Directing Unit (2004-2013) Estelle Parsons, David Margulies, Peter Maloney, Lyle Kessler, Patricia Bosworth, Moderators.
§ Actor's Studio West - Playwright-Directing Unit, Los Angeles (1997-2001)
Moderators: Mark Rydell, Lyle Kessler
§ Lincoln Center Directors' Lab West: 2000
§ Actor's Studio East - Playwright-Directing Unit, New York City (1985 – 1988)
Moderator: Arthur Penn; Sponsor: Elia Kazan
Training and Education
§ Actor's Studio-Playwright Directing Unit, Directing Technique and Dramaturgy: sponsored by Elia Kazan. Moderators included Arthur Penn, Joseph Mankewicz, and Norman Mailer. (1985 – 1988)
§ Uta Hagen, Stella Adler (student scholarship): Wynn Handman, Michael V. Gazzo, William Hickey, Gene Feist
§ University of Buffalo. Bachelor of Arts, Magna Cum Laude
§ Stuyvesant H.S. , N.Y.C. General Excellence Award. Sterling Jensen (Roundabout Theater, leading actor) : Drama coach.
Life Experience
· International traveler – trekked for two years on an around-the-world journey.
· Volunteered on Kibbutz Kisufim, Negev Desert for 5 months.
· Studied Kabuki Theater in Kyoto, Japan.
· summer farmhand on Peter's Homestead, Sullivan County N.Y. Duties included milking 60 cows daily, putting in over 30,000 bales of hay, caring for livestock, fencing, barn raising.
· Published author of articles: Humanist Magazine ('Sundance and Beyond').
The Soul of the American Actor ( 'Inside the Soul of an American Director').
The Mailer Review ('The Unknown and the General'. Tough Guys Do Dance'. ),
(In Memoriam - Norman Mailer)in 'Talk Show' by Dick Cavett,
Various other periodicals.
2009 Winner Silver Award for Travel Adventure 'Amorgos' in Solas International Travel Writing Competition.
2010 Winner Gold Award for Travel Memoir 'Herat Oh Herat My Heart' in Solas Writing Competition.
2010 Silver Award for Adventure Travel ' The Power of a Single Note on the Breeze - from South Street to Simla, India.'
· Novelist: 'Rock Tavern' ( a pastoral mystery set in upstate N.Y. on a farm, capped by the mystical bonding of three young men on a mountaintop( recommended by Norman Mailer for publication).
§ Collaborated with Czech Master Filmmaker Jiri Weiss ("Marthe and I". starring Michelle Piccoli and Marianna Saegebrecht) on two screenplays: "The One-Eyed SS Officer" ( a romance between a young female Czech resistance fighter and a Nazi officer during the Nazi occupation. ), and "Murder Czech Style" ( based on his movie and transplanted to the Southern U.S. - a satire of an upwardly mobile bureaucrat who achieves his ambition but at the high price of marrying his boss' mistress and bringing up the two kids his boss has fathered with her.).
My Hobbies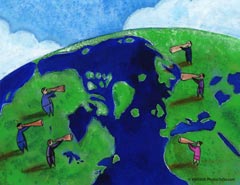 I've always been interested in writing prose, performing and directing in theater. But I'm not too interested in making nice with various bureaucrats and all the compromises that entails so I have become a passionate advocate of self-empowerment - creating projects by just getting an idea and recruiting actors to join me in the service of material I consider momentous. And I find it sort've therapeutic to walk through the streets of New York - say, after a rehearsal. The wind coming down the urban canyons breeds thoughtfulness. It's the cheapest and best ticket in town. I guess you have to live in L.A. for awhile to appreciate the variety of historic building architecture that graces almost every block here. But I also find that the very magnificence of the buildings may be endangered by all the residential development going on and those old structures being replaced by glass tissue boxes. I did spend two years hiking around the world and living in half a dozen countries for about three or four months each ( you start feeling like a local that way, a member of the community.). That would include Llangley, Camarthenshire, Wales. The island of Amorgos,Greece. Kibbutz Kisufim, Negev Desert, Israel. Himachal Pradesh, India. Bangkok,Thailand. Penang, Malaysia. Kalalau valley, Kuai, Hawaii. And I also enjoy being in touch with nature so I've become an active bird feeder and hiker in the wilderness sanctuaries of New Jersey such as Mills Reservation, Montclair - a bird sanctuary and hawk lookout. Lately I seem to have become addicted to the challenge of nurturing plants from cuttings from plants that are not local but that have ended up growing in a local pot. You end up with a really interesting collection of plants that way. I've been cycling since I was a teenager - when it was just me and the messengers. Kind of crowded now.
Most Admired
The work of Elia Kazan, Norman Mailer, Arthur Miller, Liz Dixon, George Patton, Gary Snyder, Julius Caesar, Robert Zimmerman, Theodore Roosevelt, Ernest Hemingway, Rona from Arizona, Gena Rowlands, Rod Steiger, Paul Muni, John Garfield, Thomas Edison, Alexander the Great, Robert E.Lee, Ellen Stewart, Lady Brett Ashley, Beth Gibbons.